The TK800 routers are available in 3G (HSDPA, HSUPA, and HSPA) and LTE versions. LTE technology, in addition to increased speed, significantly reduces communication latency (improving network responsiveness), and ensures greater connection stability due to higher interference immunity and increased network cell capacity. Of course, the routers also support older 2G (GPRS, EDGE) and 3G (HSDPA, HSUPA, HSPA+) technologies.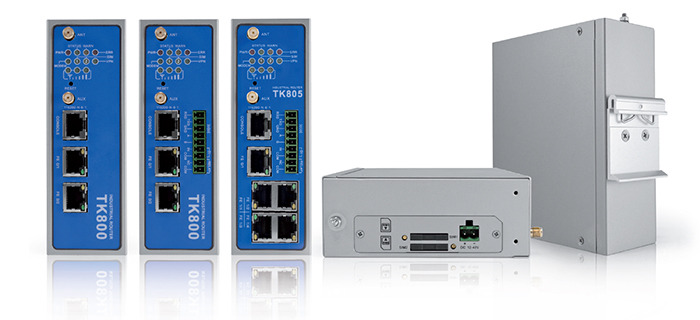 The most important feature of mobile communication solutions is the stability of connection with the network of the mobile operator. The TK800 routers, just like other Welotec routers, have two built-in connection testing mechanisms. The first, low-level, one checks if communication with the PPP server (PPP LCP echo) is possible. The second mechanism tests whether the operation of the link itself is correct by sending test frames (ICMP ping) to the specified IP address. This ensures that the router responds quickly to a connection loss and restores the smooth operation of the link. In the vast majority of cases, these incidents are not noticeable for the user.
The routers are equipped with two or five Ethernet connectors, one of them can work as a WAN port. In addition, the TK525L-W router is equipped with a Wi-Fi module for connecting additional devices. It supports IEEE 802.11n standard with the maximum transfer rate of 300 Mbit/s. The routers also allow you to set up VPN tunnels (Virtual Private Network – these are point-to-point connections over a private network or a public network such as the Internet), which enable secure data transmission over a cellular network. The devices on both sides of the tunnel are not visible from the network in which the tunnel is established, nor do they themselves have access to addresses outside the tunnel. Such solutions allow safe and trouble-free communication with remote devices, e.g. in order to reconfigure PLCs or ATM monitoring. The routers support the following tunneling protocols: OpenVPN, and GRE.
The TK800s in EX0 version  are equipped with RS‑232 and RS‑485 serial ports, one digital input and one relay output. Serial ports can be used to work with an external virtual COM port server, enabling remote support for older devices and also for the ones without remote operation capability. In addition, the serial port can be used to communicate with ModbusRTU enabled devices. The router can perform auto-translation of ModbusRTU to ModbusTCP enabling the devices communicating over the serial port to be visible on the network as ModbusTCP devices.
Model

TK802U

TK812L

TK802L-EX0

TK815L-EX0

TK815L-EXW

TK815W-EX0

TK815W-EXW

2G

GSM, GPRS, EDGE

GSM, GPRS, EDGE

–

3G

UMTS, HSDPA, HSUPA, HSPA

UMTS, HSDPA, HSUPA, HSPA+

–

4G

–

LTE

–

Max. download

14,4 Mbps

100,0 Mbps

–

Max. upload

5,76 Mbps

50,0 Mbps

–

Ethernet

2 x RJ45 port 10/100TX – Auto MDI/MDI-X

5 x RJ45 port 10/100TX – Auto MDI/MDI-X

Additional interfaces

–

RS-232, RS-485, 1xDI, 1xRO

RS-232, RS-485, 1xDI, 1xRO

RS-232, RS-485, 1xDI, 1xRO, Wi-Fi

supporting IEEE 802.11 b/g/n (up to 300 Mbps)

RS-232, RS-485, 1xDI, 1xRO

RS-232, RS-485, 1xDI, 1xRO, Wi-Fi

supporting IEEE 802.11 b/g/n (up to 300 Mbps)
The TK800s are robust devices that can work in harsh conditions. Devices can operate in wide temperature (-25°C do 70°C) and humidity (up to 95% non-condensing) range. Their housing is a sturdy metal structure with IP30 protection class for mounting on a DIN rail and, using a special hanger, screwed directly to a flat surface.
TK812L-EX0 router basic features:
6-band GSM / GPRS / EDGE / UMTS / HSDPA / HSUPA / HSPA + / LTE modem with automatic session setup and restore
Two galvanically isolated 10/100 Mbps Ethernet ports, RJ45, Auto MDI / MDIX Ethernet ports
RS-232 port, R-485 port, digital input, relay output
Real time clock
Hardware and software watchdog
Serial protocols: ModbusTCP / RTU, Transparent TCP Connection, Virtual COM port
Network protocols: ICMP, IP, TCP, UDP, DHCP, PPP, ARP, Telnet, DNS, SSH, VRRP, HTTP, HTTPS, NTP, SMTP
Networking functions: routing, connection testing, NAT, PAT, virtual IP address mapping, DDNS (DynDNS), VRRP
Security: IPsec, OpenVPN, GRE, PPTP, L2TP, authentication (password, certificate), firewall, access control (rules for TCP and UDP protocols and ICMP packets), MAC address filtering, port forwarding, demilitarized zone (DMZ)
Metal housing, IP30 protection class
DIN rail mounting, detachable terminal strips
12 – 24 VDC power supply